Arizona Cattle and Beef Statistics
Here are some fun Arizona-specific facts:
19,000 farms and ranches (source)
7,075 farms and ranches with cattle (source)
Total number of cattle and calves on January 1, 2021: 980,000 head (ranked 31st in the nation) (source)

Beef cows that have calved as of January 1, 2021: 196,000 head (source)

Dairy cows that have calved as of January 1, 2021: 194,000 head (source)
Cattle on feed as of January 1, 2021: 265,000 head (source)
2020 calf crop: 305,000 (source)
Cattle are raised in every county in Arizona: Apache, Cochise, Coconino, Gila, Graham, Greenlee, La Paz, Maricopa, Mohave, Navajo, Pima, Pinal, Santa Cruz, Yavapai & Yuma
In 2020, cattle and calf sales surpassed $673,000,000 (source)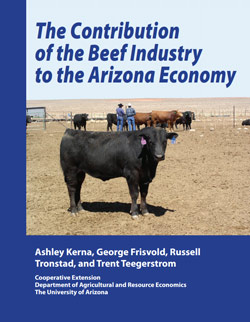 The Contribution of the Beef Industry to the Arizona Economy
A study by the University of Arizona's Cooperative Extension Department of Agricultural and Resource Economics (read the 2014 study here)
Arizona's beef industry manages more than 71 percent of the state's cattle and calf inventory.
Grazing is the dominant land use in Arizona, making up 73 percent of Arizona's total land area and approximately 98 percent of Arizona's total agricultural land, with cropland accounting for the remaining 2 percent of agricultural land.
The beef community contributed $431 million to Arizona's GDP.
Approximately 21 percent of all farms in Arizona specialize in beef production.
The beef industry exports approximately $521 million (43%) of its total beef output.
For every 100 jobs in the cattle community, 65 jobs in outside operations are created.