Beef Promotion Hits It Out of the Park
LAUREN MAEHLING, EXECUTIVE DIRECTOR | June 14, 2023
Millions* of tourists flock to Arizona each spring to enjoy family vacations, experience the pleasant weather and watch America's favorite pastime. February through April is the perfect time to reach residents and visitors alike with beef's positive message.
The Arizona Beef Council recently wrapped up a successful Spring Training Beef Promotion in partnership with the Iowa Beef Industry Council. With support from states with more cattle than people, like Iowa, high population states such as Arizona can effectively utilize Beef Checkoff dollars to educate consumers about beef's taste, nutrition and versatility. The partnership extends successful national programs (like digital advertising and promotions) to expose consumers to Beef. It's What's for Dinner., encourage shoppers to purchase beef, and share beef's sustainability and nutrition stories.
The Spring Training Campaign utilized digital billboards as well as YouTube, Nativo, Connected TV and Connected Audio advertising to engage with consumers. Nutrition videos produced by the National Cattlemen's Beef Association (NCBA), a contractor of the Beef Checkoff, highlighted how beef can play a role in a healthy diet; video and audio ads provided taste and nutrition-related content; native advertising showcased nutrition articles and healthy beef recipes; and billboards connected consumers with beef and baseball.
Billboards were strategically placed in major traffic areas as well as near spring training baseball fields, enticing drivers with images of juicy steaks and tasty beef tacos. Radio advertising reached both urban and rural listeners, which also helped extend beef messages. In addition, the native ads provided readers a longer-form avenue to read more about beef and health as well as sustainability.
Overall, the comprehensive two-month campaign "hit it out of the park" by delivering more than 1.1 million impressions and nearly 642,000 interactions through digital advertising, and the three billboards placed across the Phoenix metro area generated 7.2 million impressions.
Partnerships make successful campaigns like this possible. The Arizona Beef Council values the state-national partnership to build and extend national programs and consistent messaging to Arizona's large consumer base. From state beef councils working together and leveraging national content, to utilizing guidance and expertise of NCBA's digital marketing team, Beef Checkoff dollars are being used effectively and efficiently allowing more dollars to go directly toward reaching consumers.
Since 2019, with support from the Iowa Beef Industry Council, the Arizona Beef Council has implemented successful digital advertising campaigns generating more than 18.5 million impressions and nearly 6.9 million interactions. In addition, among Arizonans there has been a 15% increase** in awareness of Beef. It's What's For Dinner. and 6% increase** in awareness of the Arizona Beef Council. Teamwork definitely makes the dream work!
*The Arizona Office of Tourism reports 40.9 million overnight visitors to Arizona in 2021 (returning to pre-pandemic levels). In 2023, 1.6 million fans attended MLB Cactus League Spring Training games.
**The Arizona Beef Council conducts an annual Dashboard Survey of Arizona consumers to measure sentiment on beef-related topics.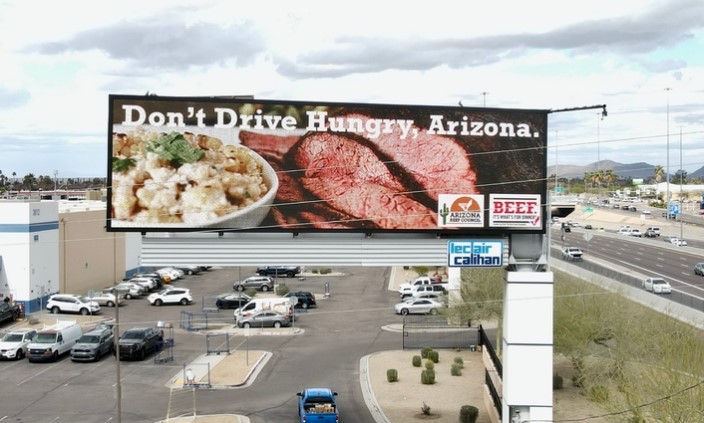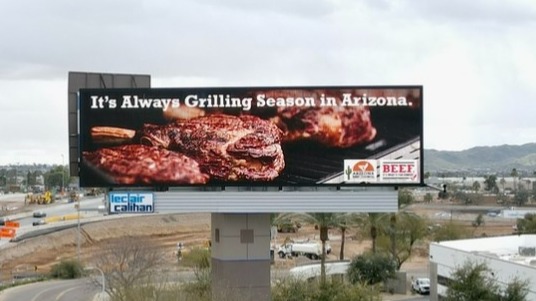 About the Beef Checkoff Program
The Beef Checkoff Program was established as part of the 1985 Farm Bill. The checkoff assesses $1 per head on the sale of live domestic and imported cattle, in addition to a comparable assessment on imported beef and beef products. States may retain up to 50 cents on the dollar and forward the other 50 cents per head to the Cattlemen's Beef Promotion and Research Board, which administers the national checkoff program, subject to USDA Approval. For more information, visit BeefBoard.org.
About the Arizona Beef Council
The Arizona Beef Council is a non-profit organization served by a nine-member board of directors representing cattle growers, cattle feeders, and dairy farmers, and are appointed by the Governor of Arizona. These volunteers oversee Arizona's beef checkoff and checkoff-funded programs.
About the Iowa Beef Industry Council
The Iowa Beef Industry Council is funded by the $1-per-head national Beef Checkoff Program and the $0.50-per-head Iowa State Beef Checkoff. Checkoff dollars are invested in beef promotion, consumer information, research, industry information and foreign market development, all with the purpose of strengthening beef demand. For more information, visit iabeef.org.