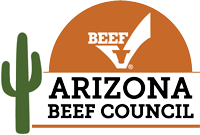 Arizona Beef Council
The Arizona Beef Council (ABC) is a not-for-profit organization created by the State of Arizona on August 11, 1970, with a scheduled sunset review for extension every ten years to operate in the State of Arizona. The next scheduled sunset review will be in 2026. The Council has the authority to establish a self-financed program to help develop and maintain state, national, and foreign markets for beef and beef products.
The Council is controlled by a Board of Directors appointed by the Governor of Arizona, consisting of nine industry representatives from the cattle grower, cattle feeder, and dairy industries of Arizona. Leaders of the
Arizona Cattle Growers' Association
(ACGA), the
Arizona Cattle Feeders' Association
(ACFA), and
United Dairymen of Arizona
(UDA) many times serve as Council members.
In 1985, with the passage of the Beef Promotion and Research Act (BPRA) and the Beef Promotion and Research Order (BPRO), the Arizona Beef Council was authorized to become a qualified state council (QSBC) to collect the checkoff for the
Cattlemens' Beef Promotion and Research Board
(CBB). QSBCs must have written procedures that ensure the proper collection of and compliance with the checkoff as prescribed by the BPRA, the BPRO, and the CBB.
In connection with the implementation of the Arizona Beef Promotion and Research Program, the ABC entered into a contract with the Arizona Cattlemen's Association (ACA) to provide administrative, program, accounting, and office support services for payment, within stated maximums, and the reimbursement of certain other expenses. The contract may be terminated by written notice by either party with a termination date to be agreed upon by both parties.
The ABC programs are financed primarily by the $1 per head assessment on sales of Arizona domestic cattle. Revenue is recognized as sales of cattle are reported to the Arizona Department of Agriculture or remitted to the ABC by other states. Assessments collected by the Department are remitted monthly to the Council, less a 5% administration fee. The ABC is required to contribute to the CBB fifty percent of gross fees resulting of sales of cattle.
The ABC in-state programs focus on education, nutrition, retail, and food service promotion. Through the ACA/ABC Administrative contract, staff is hired to administer these programs.